Evaporative Cooling Repairs & Service Melbourne
Our experienced evaporative service technicians and plumbers can service and repair your evaporative airconditioning system.
We service and repair of all makes and models including Brivis, Breezeair, Braemar, Aira.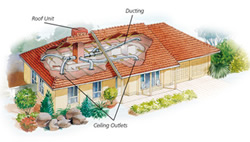 Residential & commercial systems
Experienced technicians
Height safety conscious - experienced with difficult access
Service, Repair, Replacement
Inspect and repair or replace faulty pumps, controllers & pads
Keep cool this summer! If your evaporative cooling system isn't working properly, call us today on 1300 367 626 for fast, efficient service.
---
Some Background . . .
What is an evaporative cooler?
When water evaporates, it absorbs energy. When dry warm air is passed over a damp surface, the energy is absorbed from the air and the air cools. This cool air is blown into your house, providing a cooling effect. The air can be reduced by 3 to 7 degrees. The warmer and drier the outside air the better an evaporative cooler operates.
Why do evaporative coolers need maintenance?
As the air is drawn into the cooler, it is passed through a wet collection of pads. This air is often dirty. As well as cooling the air, the air is washed with water. The dirt can remain in the cooler and needs to be cleaned out annually. This can block the pump and stop the system working. Eventually the pads and pumps will need replacing.